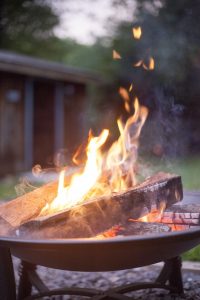 Outdoor fire pits have become an increasingly popular outdoor home accessory.   If you have a fire pit or are considering adding one to your yard, here are a few things you should think about for safety.
Siting:
Check with your local building codes officer to determine if there is a legal minimum distance for placement of your fire pit from any built structures on your property (your home, sheds, etc.).
Typically you want to place your fire pit in an open area with seating arranged with plenty of space for guests to maneuver around the fire without coming too close.
There should be good ventilation around the fire pit as well.
Safety:
Use seasoned hard woods like oak or maple for your fires as softer woods (pines and cedars) have a greater tendency to pop and splinter when burned and can cause burning embers to fly.
Start your fire with kindling only and avoid using lighter fluids of any kind in your fire pit.
Use a screen to cover your fire pit to keep any stray embers from flying out.
Never leave a fire pit unattended and keep a careful eye on children when the fire pit is in use.
Don't allow blankets or loose flammable clothing (nylons) near the fire pit.
Keep a bucket of water or sand nearby to fully extinguish the fire when you are done (or use a garden host set for a wide gentle spray), and allow coals to fully cool for 24 hrs. before disposal.
Insurance:
Check with your insurance company to find out if your policy holder requires you to declare use of a fire pit at your home.
If you should have any questions about your insurance, please feel free to contact our team at Bieritz Agency in Cooperstown (607) 547-2951 or Morris Insurance in Morris at (607) 263-5170.  We are happy to help you!