Driving Safely in the Fall and Winter Months
The wet and snowy road conditions characteristic of the fall and winter months in the north are driving hazards that can cause skidding (sliding) and hydroplaning (in which a car drives on top of water).  Luckily, there are plenty of ways to avoid incidents such as these in the present and coming months: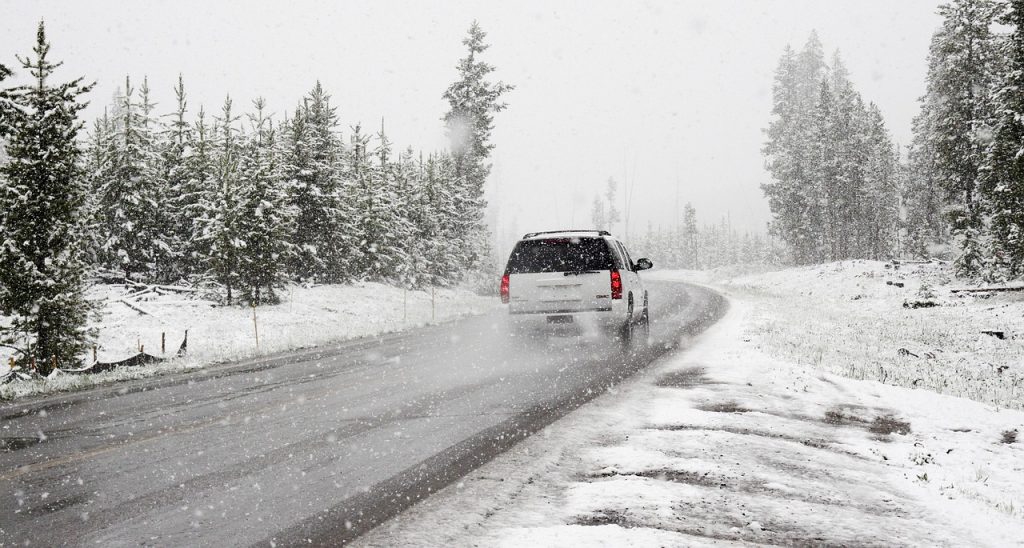 First of all,

eliminate distractions

in order to

focus

.

 

Phones should be silenced, turned off, or stored away where they can't be reached so attention can be devoted to the road.  You are allowed to ask passengers to silence their own devices if they are distracting you as well.  It may also be helpful to set up a 5 minute quiet time at the start of your journeys before turning on music or talking in order to get a feel for the road conditions and how you might need to drive that day.
Prepare your car

for the season.  Lots of fall rain and winter snow requires effective

wiper blades

for on-road awareness.  It also requires

tires with effective grip

.  Worn-down tires are more at-risk for hydroplaning over wet leaves, and they won't be able to guide the car out of trouble as easily as tires with good grip.  Furthermore, whereas regular tires in the winter cold become stiff and more breakable,

snow tires

are made out of softer rubber that can better adjust to the surface of the road.  They also have special grips that latch onto snow and ice on the road, decreasing the likelihood of skidding and providing more traction in guiding the car out of it.  

Drive slowly

this season, slower than you would in the warm and dry months.  Drive slowly through

puddles

, if they can't be avoided, and over

wet leaves

to prevent hydroplaning.  Do the same through

snowfall

; on

hills

, shifting into a lower gear can help the car stay attached to the road, and thus prevent skidding.  Additionally, approach

overpasses, bridges, shady areas,

and

curves

with caution.  The first three may be more at-risk for morning freezes, while curves are often places that people find themselves driving too fast.  Rain and snow can make these situations more dangerous.
Maintain a safe

distance

from the cars ahead of you in order to allow yourself enough braking time and to minimize potential damage.

If snowfall or leaves cover road

lines

, do your best to stay aware of and within them.

Brake gently

to avoid hydroplaning and skidding.

If rain or snowfall makes you uncomfortable,

pull over

onto the side of the road in a safe location, turn on your emergency lights, and wait until the rain or snow passes or until you feel you can drive confidently again.  

Lastly, in the event of

skidding or hydroplaning,

try to

remain calm

.  Do not touch the gas or the brake, but

steer gently

in the direction you want to go.  If your rear wheels are sliding, steer to the right or the left depending on where they are sliding, and then straighten the wheel when the

car itself straightens

on the path you want to take.  Once you regain better control of direction,

gently brake

if the front wheels have been sliding, or

gently accelerate

if the back wheels are the culprits.  This is for the purpose of redistributing the weight of the car to the wheels that have been skidding in order to return some of their traction.
Driving always comes with some hazards, but in the northern hemisphere, there may be more times in the fall and winter that require particular caution.  Do your best to stay aware of road conditions and drive as they demand of you.  Make sure you are comfortable, focused, and prepared to take on the road and its hazards.  In this way you can do your best to maintain your own safety, that of other drivers, and that of each your own passengers.