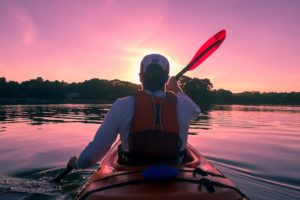 Most homeowners policies provide insurance coverage for a canoe or kayak (small paddle crafts valued at less than $1500) in the case of sinking, theft or damage to the craft.  If you use these at a second home, then you have to make sure they are included in your second home policy. If the value of your canoes/kayaks are over $1500, you might want to itemize them on your insurance policy along with other essential equipment like paddles and life vests.  You might also want to seek coverage to protect you in case you are responsible for an accident that causes injury or property damage. Although there is no mandatory insurance requirement in NY State for personal use of canoes or kayaks, it might be worth the cost for peace of mind.
If you are in the habit of loaning out your personal canoe or kayak or rowboat for others to use, then you might want to discuss a liability policy to provide coverage.  If you are renting or offering tours using small paddle craft, then the state will require you to provide coverage for your employees as well as customers. Often, a comprehensive watercraft insurance policy for your business will cover you for liability in case someone gets hurt as well as protection for your boats and equipment against damages, theft and loss.
If you are looking for guidance for other types of boat insurance (pontoons, small boats with engines, sailboats, jet skis, etc.), take a look through our article 5 Things to Consider When Buying Boat Insurance .
If you have an questions about insurance for your small crafts, you can contact us at our offices in Cooperstown and Morris, NY.  We are happy to assist you!
Read More