Cooking Safety through the Holidays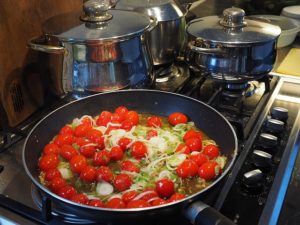 Did you know that there are about 1,400 cooking fires per year on Thanksgiving?  This is more than 3X the average for every other day of the year!  Furthermore, since 2004 there have been 107 fires due to frying turkey that have caused 47 burns and $5.2 millions worth of property damage!  Keep in mind the following tips to prevent accidents in your kitchen when you are cooking for the holidays.
Prevention
Make sure there is someone to watch over cooking operations as much as possible.
Tie long hair back and restrict or don't wear drooping clothing that may easily catch fire.
Try to put meal-preparation tools that are flammable in a separate area.
Closely supervise cooking children or designate a distant playing space.
Keep watch over and clear away any grease buildup throughout the day.
Keep pan handles out of the way of passing traffic as much as possible.
Ensure that there are working smoke detectors installed on each floor, and perhaps get a photoelectric alarm that can determine the difference between smoke from cooking and smoke from fire.
If you choose to use a turkey fryer, set it up far outside and away from your house, not on the porch or in the garage.  Make sure the turkey is thoroughly thawed and dried before beginning.  Make sure you put only as much oil in it as you need.  If it starts to smoke, turn off the gas supply.  Also keep close watch.
Keep a fire extinguisher nearby and learn how to use it.
Action After An Accident
In the event that there is a grease fire, call 911 as soon as possible and do not to attempt to put it out with water.  If someone's clothing is on fire, remember or remind the person to stop, drop, and roll.  If someone is burned, further action is needed depending on which level of the skin it reaches.  For more information on treating minor burns, follow this link.
Remember, your insurance provider can help you navigate out of this kind of crisis.  You can reach our team at Bieritz Insurance in Cooperstown at 607-547-2951 or at Morris Insurance at 607-263-5170.
For additional information on things you can do to prevent accidents during the holidays, check out Safety Tips for the Holiday Season and Top Ten Holiday Safety Tips.