Insurance for a High Risk Pet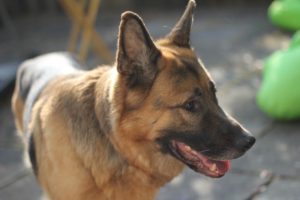 How do you know if you have a high risk pet that will affect either your ability to get insurance or the cost of your current homeowners policy? Insurance companies consider certain dog breeds to be high risk because these breeds tend to be more aggressive and are therefore deemed to be more dangerous:
Akitas

Chow Chows

Doberman Pinschers

German Shepherds

Pit Bulls

Rottweilers

Wolf hybrids
PLEASE NOTE: WE ARE ABLE TO SERVE CLIENTS RESIDING IN NEW YORK STATE ONLY FOR THIS PRODUCT.
Some companies won't insure these breeds, but if they do, the homeowner can pay significantly more for a policy. Furthermore, many apartments won't accept these breeds and renters insurance usually won't cover them. If you buy pet insurance for your dog, the above breeds can also affect your ability to get coverage and the cost of coverage.
Insurance companies do this because at least one-third of homeowners liability claims are for dog bites. In fact, research from the Massachusetts Society for the Prevention of Cruelty to Animals (MSPCA) shows that $250 million is paid annually by insurance companies to cover claims involving dog bites. At an average claim cost of $12,000, it is easy to see why insurance companies are reluctant.  An estimated 4.7 million dog bite injuries occur each year and 800,000 require medical treatment.
States regulate insurance, so how high risk breeds are covered will vary from state to state. Typically there are three options: insurance companies won't cover these breeds, they will cover at a higher premium cost and many will limit the number of high risk dogs you can have in one household.
It is legal for any insurance company to deny you insurance, increase your premium or even cancel your policy because of the type of dog breed you own. Many cities even have breed-specific dog ordinances, which have been challenged, but insurance companies are not government entities and can do what they want to for their own business protection.
All that said, it is possible to get insurance. Companies usually offer general policies at a higher cost, and some companies will offer expensive breed-specific policies, whether for a homeowners or a pet insurance policy.
So how do you get a good insurance policy if you own one of these high risk breeds? It is possible. You have to do a bit of research, but you can find a good policy at a reasonable cost.
First, check your existing policy. It might cover you. Does your policy have breed exclusions? Does it cover dog bites on your property or on other property? You also want to look at your current policy's personal liability limit. If it is not at least $100,000, you need a policy with a higher personal liability limit for your high risk breed.
If you need a new policy, shop around and ask your friends who have high risk breeds who their insurance companies are.
Many high risk breed owners get an umbrella policy. An umbrella policy is an extra layer of security–extra liability insurance coverage that extends past the limits of your regular homeowners policy, your auto policy and any watercraft policy. These policies provide extra coverage for people who are at higher risk for being sued for accident injuries or damage to other people's property.
One of the best things you can do is to train your dog. At least go through a basic dog obedience course, and consider aggression training in addition to that basic training. Ask the trainer about how to properly socialize your pet so that it acts appropriately with other animals. Furthermore, many pet owners don't realize that spaying or neutering your pet significantly reduces the chance of a biting incident. Insurance companies look at all of these things and will view you in a favorable light if you've done these, so definitely consider doing as many of these as you can.
Don't go without insurance—it is never a good option. Even if you don't own a high risk breed, a dog bit can still happen. Many insurance companies don't have breed exclusions and even specialize in insurance offerings for difficult-to-obtain situations.
Many insurance companies will insure your high risk breed. They usually review each case and look at the dog's history. The insurance company may require an in-person visit to assess the dog's behavior and training. Some companies require your dog to have the Canine Good Citizen certification, and some require you to house your dog in a particular way.
If you are a pet owner with a high risk dog, you should definitely consider proper insurance coverage. There are lots of options out there, so give us a call at Bieritz Insurance. We will talk through all the options for your pet and get you a plan that will get you the coverage you need at the best price.