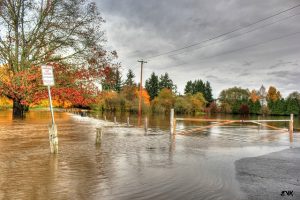 If flooding is a possibility in your community, it's important to make sure you're protected.  Remember your homeowner's policy does not cover flood damage.  You must purchase a separate policy.
All types of homes are eligible for flood insurance.  You can even purchase flood insurance to protect your possessions if you rent your home.
While most homeowner's insurance is set up to get your home and belongings back to their pre-loss state, flood insurance is designed to simply get you back on your feet – it's not as comprehensive as most homeowner's policies.
Premium costs for residential properties vary depending on coverage, which is available for your building, contents or both.  For instance, flood insurance usually covers washers and dryers, food freezers and the food inside as well as water tanks, oil tanks, furnaces, stairways, unpainted drywall and ceilings.
For more information on flood prevention and the National Flood Insurance Program (NFIP), visit FEMA online at www.fema.gov, or call the NFIP at 1-800-Call-Flood (1-800-225-5356).  The FEMA website features information about insurance coverage and flood safety.
Call our office today.  We can help determine the flood risk level for your home and property and advise you on the appropriate level of insurance protection.