Transitioning your Home from Fossil Fuels to Electric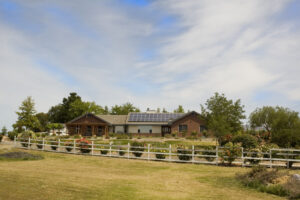 New York State is making a huge push to help homeowners and businesses transition out of fossil fuel dependence.  Through NYSERDA (New York State Energy Research and Development Authority), there are currently a number of programs and incentives that can make it possible for homeowners to begin this process.  Although incentives for home solar systems have been around for at least a decade or more and are being phased out a bit, there is still time to configure a home system that can work out to being very close to expense neutral – shifting your payment from your existing utility company to a loan payment for a solar installation.  In some cases, the federal and state tax credits (which can be taken over the course of two years) are refunded to the homeowner and then paid to the loan provider as part of the loan agreement to minimize a good deal of the up-front cost.
In addition to solar incentives, there are currently programs for insulation, heat pump systems for home heating (mostly for geothermal systems currently), heat pump hot water systems, electric vehicle chargers, as well as continued support for energy smart appliances.  For homeowners who want to fully transition, there are discounts, rebates, tax credits and financing options available with some qualifications required (based on income, location, etc.).
If you are interested in learning about what might be possible for you, a good place to start locally is through the Otsego County Conservation Association's HeatSmart Mohawk Valley program.  Their staff can give you an overview of what might be available for you and will guide you to the resources and application through the NYSERDA portal. They regularly offer overview webinars to help answer questions about how systems work and where to begin so that you can assess your energy usage and needs in order to configure the right systems for your home.  They can also help direct you to NYSERDA recommended service providers (many of which are local businesses) who can also assist you with navigating the process for qualifications for the NYSERDA incentives.
These kinds of home energy upgrades help to make your home infrastructure more climate-friendly by significantly reducing your annual household CO2 emissions (something we should all be acting on),  alleviating existing strains on our energy grid, and increasing the assessed value of your home.  Carbon based energy is a finite resource which is sure to become increasingly expensive, particularly if/when our governments (federal and state) decide to stop providing subsidies for fossil fuels.  Finding a solution to provide our own energy to heat and power our homes is very likely going to be far less costly.
If you plan on making some of these changes to your home (or business), contact our team for a quote on what you can expect for your insurance.  We are happy to assist you at either of our offices: Bieritz Agency, 209 Main Street, in Cooperstown or Morris Insurance Agency, 128 Main Street, in Morris.  You can also feel free to contact us through our website using our Request a Quote Form.  We look forward to hearing from you!