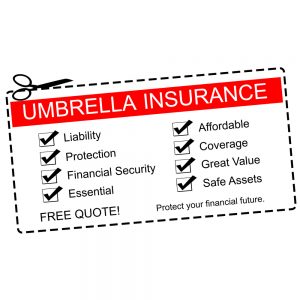 The umbrella is known to be a reliable means of protection from hazardous weather, so it's only fitting that there's a useful policy named after it: The umbrella policy. You likely know the basic policies like auto insurance and homeowner's insurance. Most customers know what they do, which is why they are the most sought-after. 
An umbrella policy is not as popular as auto or homeowner's insurance, but it can still be a very prolific policy to have should you choose to pursue it.
What is an umbrella policy?
An umbrella policy covers you in situations where you might be held accountable for bodily harm or property damage to somebody else. Umbrella policies also offer coverage for losses that may not be covered by your typical homeowner's insurance policy. This policy gets its name due to having higher levels of protection than your typical car and home insurance.
Insurance companies will tend to bundle umbrella policies with other auto and home coverage. An umbrella policy will typically add an extra one million or more dollars of liability insurance in addition to basic home and auto insurance at the cost of a few hundred more per year. Multiple policy discounts can also come into effect with the addition of an umbrella policy, so you could pay less to get a bundle than if you bought each policy on their own. 
A neat trick that insurance companies will also often recommend is to raise your deductibles on homeowners and auto policies and dedicate the money you save from premiums to pay for the umbrella policy.
When will an umbrella policy come into effect?
Liability insurance under homeowners and auto policies pay for expenses that you would otherwise need to pay out of your own pocket. The person who suffers a loss or an injury needs expenses to recover and would likely also want to receive their lost wages from missed work. 
The policyholder that caused harm to the person would be responsible for paying all of this, but this liability insurance would be able to cover it all so that you do not have to lose money or assets yourself. Liability insurance is also good for paying for court and defense attorney fees amidst a lawsuit or claim against you.
The likelihood of a driver, car owner, homeowner or boat operator to be considered responsible for the injury of another person or damage to their property is frequent. These people can also be held accountable for personal injury, which isn't like bodily injury, but includes psychological trauma such as "grief" and "suffering."
What is covered under an umbrella policy?
The "umbrella" serves as a security blanket that protects you from having to take money from your savings account or having to sell some of your assets in order to pay a claim or judgment. This policy can keep your personal, home and business assets from being taken by a claimant. 
For example, if a storm blows over a tree in your yard and it damages your neighbor's car, this is one incident that can cause a financial loss. If your property happens to damage other property or injure another person, and it is beyond your control, that is considered an accident that can be covered with an umbrella policy.
Many policies, including the umbrella policy, have a list of incidents that they do not cover. These instances include malpractice lawsuits, workers compensation claims, damage that you intentionally caused (such as vandalism of other people's property) or damage caused by a business (such as your business producing harmful toxins that harm people and the environment).
Who is an umbrella policy for?
Many homeowners, especially those that often participate in community affairs, should recommend getting an umbrella policy. When working for religious, civic, and even charitable organizations, there is always that chance that you could end up being subject to claims, conflicts, and even legal action. You still need to defend yourself, even if the court throws out a lawsuit against you. What umbrella liability coverage does, however, is to cover the costs of court and attorney fees, no matter if you are found liable or not. 
Getting sued is a very costly and unfortunate circumstance for you, even if it turns out you did nothing wrong. Whereas homeowner's insurance will not be able to cover attorney and court fees, an umbrella policy will.
Should I consider getting an umbrella policy?
There are two factors that should influence your decision on whether or not to get an umbrella policy: The value of your assets and the likelihood that you might get sued. 
As an umbrella policy is meant to protect your money and assets from lawsuits, you should consider getting one if you do not wish to lose those assets. It is said that an umbrella policy is good for anyone that has more assets than they possess in liability coverage from their basic insurance policies.
If you also drive on the road or have guests over often, the odds of being involved in an auto accident or having an injury or property damage becomes greater. If either or both of these circumstances apply to you, then you would be a good candidate for an umbrella policy.
If you have any questions about whether an umbrella policy is right for you, just contact our team at Bieritz Insurance and we will be happy to assist you!
Read More