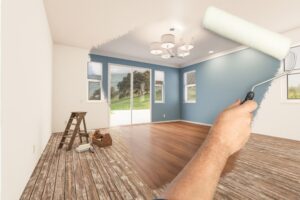 When embarking on home improvement projects, one of the first decisions is whether to do it yourself or to hire a professional. If you feel you have the skillset to undertake a particular project, then it might make sense to proceed with it. If you are not sure, remember that time is valuable – and if you make a mistake, you may likely have to do all the work over again or possibly end up calling a professional anyway. Make sure you consider your 'worst case scenario' and let that help guide you in your decision.
One of the most popular DIY projects is painting. A fresh coat of paint can go a long way to perk up your living spaces and it doesn't have to be a complicated project. If you are removing wallpaper and repairing walls, however, that might be a different story. If you are doing it yourself, don't skimp on materials. The money you save on hiring someone will more that cover the increase in cost for quality paint and materials.
Another popular DIY project is switching out your plumbing fixtures. Replacing your old faucets and showerheads can bring a whole level of improvement to your living space – both aesthetically and practically. If you have a leak that can't be corrected due to a worn out fixture, it can also save water and expense down the road as well. At the same time, plumbing repairs can be tricky for DIY since many homeowners don't have access to the same tools or expertise as a professional. One wrong move can result in a bad outcome if something breaks – so be prepared for contingencies and have your plumber's phone number on hand in case something goes wrong.
DIY tiling is another popular home improvement project. A good place to begin might be something small like a backsplash area around your sink or your stove. These types of projects can have a beautiful, personal flair – and will last for a very long time – so make sure you love it or find colors that will blend in well if you change your color schemes in the future. If you are working in areas where there is water, be sure to seal everything appropriately to avoid damage.
If you happen to have skill with wood and woodworking tools, there are a lot of things you can work on – from shelving, to seating, tables, racks and more. If you have an interest in these types of projects, consider taking a local course to better understand the craft and begin practicing with some simple projects.
Finally, if you do decide to take on some of your own home improvement projects, be sure to check with your local codes departments to see if there is any permitting that is required. Find out if there are any permits or inspections that need to happen as you progress through your project and what the procedures and timelines are. This will go a long way towards having a great experience and will save a lot of time and headache down the road.
Remember, if you are making improvements for your home, contact our team at Bieritz Insurance Agency to see if any updates to your homeowner's policy are needed. We are happy to provide you with information and guidance!