End of Summer Home Maintenance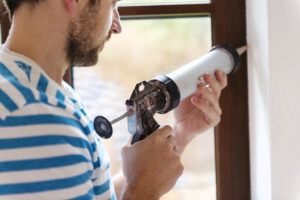 We are all familiar with 'Spring Cleaning' where we open the windows after a long, cold winter and prepare for the beautiful warm summer months that are to come, but it's also helpful to make yourself an 'End of Summer' list as the season dies down. Keep some of the items listed below in mind to check towards the end of August to get your home prepared and in-shape for the fall.
Before the leaves begin to fall – give your gutters and downspouts a check to make sure there are no existing clogs. Remove any brambles and seeds and run some water through to see if there are any leaks that need to be repaired.
Give your windows a fresh cleaning and seal up any gaps with caulking as you go. Leaky windows cost money all winter long with the loss of heat. If repairing and sealing isn't enough, consider whether you want to replace them.
Similarly, check your weather stripping around your doors. These often disintegrate over time, so replacing them every few years is likely necessary to prevent heat loss and insect intrusions.
Wash your trash bins. As the months get colder, animals and rodents can be attracted to the smells from your trash bins. A quick wash at the end of the summer can reduce or eliminate those smells and help keep pesky animals frommaking unwanted visits.
Spruce up your deck – clean, repair, restain or repaint and then seal it all before the cold weather arrives.
Check your outdoor equipment to make sure everything is in proper working order to get you through the upcoming months. This includes your leaf blower, snow blower, week whackers, and other tools. If you are working with batteries, now is a good time to make sure everything is charged up!
Our team at Bieritz Insurance Agency wishes you all a happy end of summer season!  If we can help you with any of your insurance products, please contact us for a free quote and learn how we can save you money on your insurance.